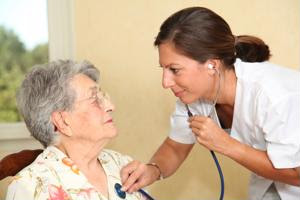 Cardiovascular disease, commonly called heart disease, is the No. 1 cause of death in the U.S., according to the Center for Disease Control and Prevention, so keeping the heart as healthy as possible is extremely important. In fact, more than 700,000 Americans have a heart attack and nearly 400,000 Americans die from heart disease each year. Heart disease is prevalent in seniors over the age of 65, so seniors should take care of their heart by maintaining a healthy weight, exercising and eating right.
If you're an at-home senior care provider, make this heart healthy pumpkin spice smoothie from the American Heart Association for your client:
What you'll need
1/2 cup plain canned pumpkin
1/3 cup nonfat Greek yogurt
1/3 cup skim milk
2 tablespoons rolled oats
2 teaspoons honey
1/2 teaspoon pumpkin pie spice
Ice cubes
Directions
To make this smoothie, first combine the ingredients in a blender, then blend until completely smooth and free of chunks. Feel free to spice it up by adding a touch of cinnamon or clove. Chilling the canned pumpkin beforehand is recommended if your client prefers a colder smoothie. Once blended, pour into cups and enjoy with your client!