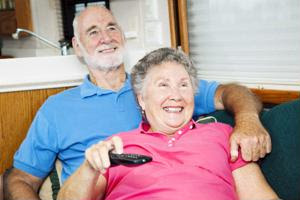 If you provide home care for seniors, you probably spend a lot of your time keeping your client active and staying busy, but there are times when taking a break is best. If you're looking to spend a little bit of downtime with your client or set them up in the living room while you're taking care of other responsibilities, Netflix might be your answer. You and your client can order several classic TV shows on DVD, including these five oldies:
'The Brady Bunch'
Who doesn't love Mike, Carol and their shiny-faced kids? "The Brady Bunch" is a classic for a reason, so prepare yourself for cries of "Marcia, Marcia, Marcia!" coming from the TV.
'The Andy Griffith Show'
This classic show follows Andy Taylor during his somewhat uneventful but always funny career as sheriff of Newberry. 
'The Honeymooners: The Last Episodes'
Your client will love re-watching this undeniably funny sitcom about two men struggling to get rich at their chosen careers and the wives that love them anyway. 
'The Dick Van Dyke Show'
Dick Van Dyke and Mary Tyler Moore shot to fame after starring in this hilarious show about a TV writer's shenanigans at work and at home.
'M.A.S.H.'
One of the longest running classic TV shows, "M.A.S.H." followed the funny misadventures of the men and women who worked in a mobile army hospital during the Korean war.