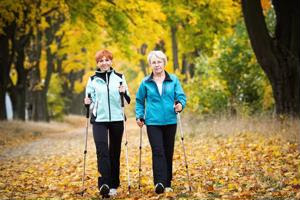 As the weather cools down, it's easy to be tempted to stay indoors, but seniors should make sure to stay active. If you provide in-home senior care, keep your client moving this fall with these indoor and outdoor exercises:
Do some fall photography
Before it gets too cold, take advantage of the beautiful changes to the season with your client. Bundle up in scarves, hats and coats and go on a brisk walk to take pictures of the colorful leaves.
Walk the stairs
Keep your client from getting apathetic about exercise and have them walk up and down a short flight of stairs a couple of times. Stairs get the blood pumping and the exercise will keep your client healthy, energized and warm in the colder weather.
Hit the mall
Shoppers often see seniors walking around malls, but the seniors do it for a reason! Malls are a great place to get your client moving, because there's plenty to see, long distances to walk and they'll keep your client inside and out of any bad weather.
Get to the pool
Take your client to a recreation center with an indoor pool for a water aerobics class or just to do some water walking during free swim time. Water exercises are great for seniors with joint issues, and your client will be able to stay active and indoors.