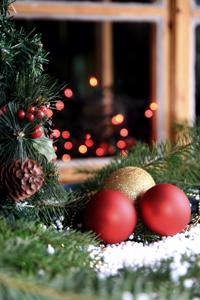 Out of all the great things about the holiday season, the decor is one of the best parts. Garlands, colorful ornaments and twinkling lights make houses festive and joyous, and wreaths and candles add to the season's appeal. If you and your at-home senior care client are ready to start decking the halls, make sure you're putting up decorations that are completely safe. Here are some tips for decorating safely for the holidays:
Choose your tree wisely
If you and your client are picking out a live Christmas tree, make sure to choose one that's fresh and healthy. Older trees with dead pine needles and dry bark are huge fire hazards. For artificial trees, make sure to check the packaging for a safety label that clearly states it's fire resistant.
Inspect your lights
Before hanging lights outside, inside or around the tree, check them carefully for missing bulbs and frayed wires that can be huge fire risks. If you're buying new lights, peruse the label to make sure they've been tested for safety. This information might also be on one of the tags attached to the cord. 
Keep it minimal
Seniors are always at risk for falling or tripping, so make sure to keep decorations minimal and completely out of the way. Never string lights or extension cords across floors or walkways, and refrain from wrapping ribbons or garlands around banisters.