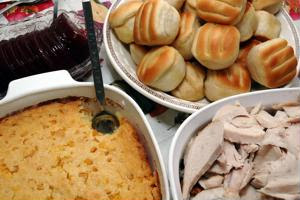 For most people, heavy holiday meals can add a quick 5 to 10 pounds. If you're a provider of home care for seniors, eat right with your client this holiday season by following these five rules:
1. Three meals a day
Make sure the two of you follow the rule of eating three meals a day, even on days where you'll be having larger dinners. Some try to balance a large dinner by not eating the rest of the day, but they then find themselves overeating a lot at suppertime.
2. Make meals a family affair
The more the merrier, so that the meal isn't the first priority. Invite your client's family to dinner, be social and try to spend more time talking than eating.
3. Healthy food first
When you're at a meal, party or buffet where there are plenty of options always eat the healthy food first so you'll have less room for the unhealthy foods. 
4. Stay away ... far away
When you and your client are at a party or buffet, sit or stand across the room from the food. Getting to the food will take more effort, and you likely won't eat quite as much.
5. Only eat what you like
Don't eat everything available at a holiday meal - only eat what you like. Nobody's feelings will get hurt, and you'll leave the meal feeling more satisfied.