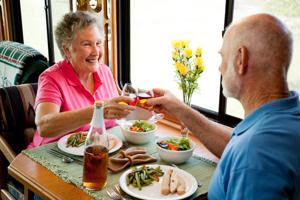 Clients of senior care services may be living alone because they've lost their significant other, their children have moved out or they are divorced. Whatever the case, your client might decide that he or she is ready to date again.
Here's a dating guide to share with your client when they feel ready to dip their feet back into the pool again:
Be sure you're ready: Opening yourself up to someone feels vulnerable, and it's a risk, so talk with your clients about any reservation they might have or excitement they might feel.
Be open minded: Whether they meet someone online, are set up by a friend or have a chance encounter that leads to dinner, it's important to be open to new methods of dating, types of dates and meeting new people.
Know the deal breakers: Some "rules," like height or eye color, can be overlooked. However, being a non-smoker, communicative or family oriented may be deal breakers. For these, it's important that your client not settle if he or she feels strongly on the subject.
Be excited: Dating should be a fun experience, so tell your client that he or she should look forward to the possibility of a new romance.