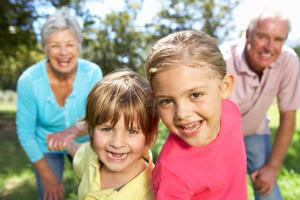 Seniors may realize they need to stay active as they age, but they may not enjoy traditional exercise or feel motivated to find time for physical activity. As a provider of elderly home care services, it's important that you help your clients find options that appeal to them. Getting older adults to see exercise as a pleasurable activity can be a motivator in and of itself, so here are some fun ways you can suggest that seniors get exercise:
Play with grandkids: Children have no short supply of energy, so suggest that your client take their grandkids to the park and spend the afternoon running around and playing. Without even thinking about it, he or she will get some physical activity while spending quality time with the young family members.
Cut a rug: Another fun activity that doesn't feel like exercise is dancing. Whether your client takes a dance fitness class, ballroom dance lessons or ballet, dance is an excellent cardio workout that can also assist with balance, which helps reduce the risk of falling.
Go window shopping: Walking is something that almost everyone can do, and it's a fantastic low-impact physical activity for seniors. If your client loves shopping, suggest he or she head to an indoor or outdoor mall to do some window shopping. As they stroll along and peruse the goods, they'll also be getting exercise.