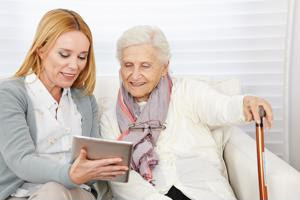 It's not uncommon for seniors to experience feelings of loneliness and isolation, especially if they are retired. Not having a reason to get out of the house every day can shut clients off from the outside world, which can lead to depression. It's important to combat isolation by keeping your clients involved with friends, family, hobbies and outside interests as part of senior care services.
Communication is key to helping senior care services seniors stay connected to the outside world, and in today's world using technology is a great way to achieve this. However, a report from Pew Research Center found that 4 out of 10 people age 65 and older don't use the Internet. As a provider of elderly home care services, you can talk with clients about connecting via technology.
Here are some ways you can help seniors overcome isolation with technology:
Teach clients how to use the Internet if they are unfamiliar with it.
Assist clients in setting up email contacts and maintaining electronic communications.
​Set up social media profiles for your clients on sites such as Facebook and Instagram.
Teach clients how to text and video chat on their phone or computer so that they can keep in touch with loved ones - no matter the distance.