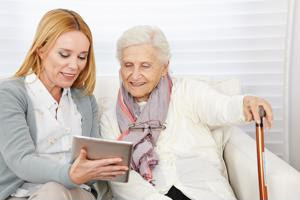 Many seniors don't require constant home health care, but could benefit from an in home care provider in other ways: That's when non-medical in home care is useful. Home health care is able to provide seniors with professional health services from the comfort of their own home, such as managing pain, providing occupational therapy and helping clients treat any symptoms of diseases or other medical conditions. On the other hand, non-medical home care services are ideal for providing other types of assistance. Here are some of the services offered by non-medical senior care providers:
Personal care
Some seniors need help with daily tasks like dressing, bathing, and eating. Providers of home care services can also help seniors manage their medications and some symptoms of aging including incontinence. 
Homemaking
Even seniors who are mostly independent can benefit from a little bit of homemaking help, which is another service provided by non-medical in home care. Caregivers are able to help seniors keep their home clean, make healthy meals and can provide transportation when seniors need to run errands or make it to appointments. 
Companionship
Perhaps one of the most important services offered by non-medical caregivers is simple companionship. For many seniors, living at home can feel isolating, especially after the death of a spouse. Companion care can provide much-needed emotional support.